Homosexual marriage in European countries
Currently 25 of the 50 countries and 3 of the 6 dependent territories in Europe recognize some type of same-sex unions, among them a majority of members of the European Union. Twelve European countries legally recognize same-sex marriage, namely Belgium, Denmark, Finland (effective from 2017), France, Iceland, Luxembourg, the Netherlands, Norway, Portugal, Spain, Sweden and the United Kingdom. Twenty European countries legally recognize some form of civil union, namely Andorra, Austria, Belgium, Croatia, the Czech Republic, Denmark, Estonia (effective from 2016), Finland, France, Germany, Hungary, Iceland, Ireland, Liechtenstein, Luxembourg, Malta, the Netherlands,Slovenia, Switzerland and the United Kingdom. San Marino only allows immigration and cohabitation of a citizen's partner. Several countries are currently considering same-sex union recognition.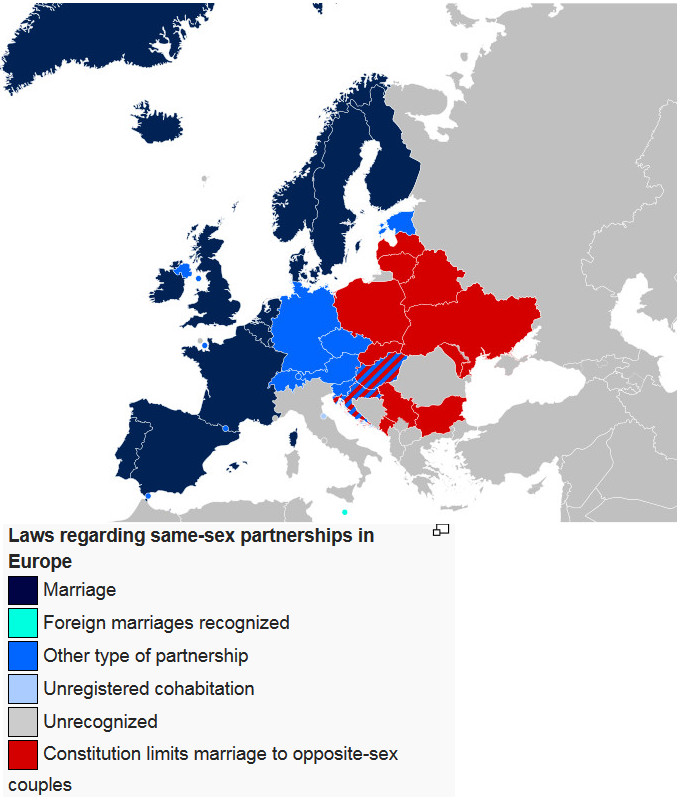 Same-sex marriage is not recognized in several European countries and in addition marriage is defined as a union solely between a man and a woman in the constitutions of Belarus, Bulgaria, Croatia, Hungary, Latvia, Lithuania, Moldova, Montenegro, Poland, Serbia, Slovakia and Ukraine.