Dating a man in the UK and marry him
Same-sex marriage now legal
Marriage is a devolved issue in the United Kingdom of Great Britain and Northern Ireland and the status of same-sex marriage is different in England and Wales, Scotland and Northern Ireland.
Legislation to allow same-sex marriage in England and Wales was passed by the Parliament of the United Kingdom in July 2013 and came into force on 13 March 2014, and the first same-sex marriages took place on 29 March 2014. Legislation to allow same-sex marriage in Scotland was passed by the Scottish Parliament in February 2014 and received Royal Assent on 12 March 2014. The first same-sex marriages are expected to occur during Autumn 2014. The Northern Ireland Executive has stated that it does not intend to introduce legislation allowing for same-sex marriage in Northern Ireland. Same-sex marriages from other jurisdictions are treated as civil partnerships.
What the Marriage (Same Sex Couples) Act does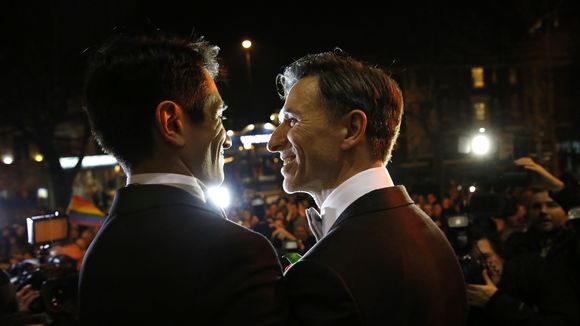 The Act, which mainly extends to England and Wales only:
enables same sex couples to marry in civil ceremonies;
ensures those religious organisations that wish to do so can opt in to conduct marriage ceremonies for same sex couples;
protects religious organisations and their representatives from successful legal challenge, if they do not wish to marry same sex couples;
enables civil partners to convert their partnership into a marriage, if they wish;
enables individuals to change their legal gender without having to end their marriage
Register to date
GayLand

gays members!